WE ARE AN ELITE SUPPORT CERTIFIED DEALERSHIP!
The team at Fuso Port Melbourne is thrilled to announce their Daimler Elite Support Certification, the 7th Dealership in Australia, the first-ever Fuso only Dealership and the quickest in the world to complete the criteria in just over 6 months.
Tired of being just another number inline instead of a valued customer? We ensure that as an Elite Dealer we are focused on what truly matters — your truck and your business. That means we don't do things the easy way, we do them the right way — every time.
What is Elite Support? Elite Support is a comprehensive support network of dealers who are trained and certified to provide the highest level of knowledge, professionalism and service in the trucking industry. It's built around the idea that professional operators work hard, and their service network should too.
Elite Support certification is available to Daimler Truck and Bus dealerships after undergoing rigorous training and process improvement. Receiving an Elite Support certification indicates that we are committed to the absolute best service for our customers.
In February 2020, Dealer Principal Steve Evans accepted the certification award from Daimler Truck and Bus Australia on behalf of the dealership.
Steve Evans said "Congratulations to the whole team for their engagement and efforts over the last 6 months in achieving Elite Support certification. This is really only the start of our ongoing continuous improvement, ensuring that our business and people provide the best possible customer experience by way of improved communications, processes and systems. Our state of the art Fuso Port Melbourne dealership is equipped to best practice standards and is an inviting place for our customers and staff alike and has been applauded by Daimler Truck & Bus for its style and functionality."
Daimler Truck and Bus Australia quoted; "This is an incredible achievement and one that will not go unrecognised. Thank you for your hard work, dedication and commitment to what we do. It can be noticed the minute that you walk in the door of the dealership and makes us very proud to work with you as a part of the Daimler Truck and Bus Group." Stacey Davies, Network Optimisation Manager, Daimler Truck and Bus Australia Pacific Pty Ltd.
A Commitment To Continuous Improvement — Being the best requires an ongoing commitment to quality that is rooted in the culture of our Dealership. That's why we have a Continuous Improvement Coordinator (CIC) to ensure we regularly meet and exceed the certification requirements. The CIC collaborates with peers across the Elite Support network to stay up to date in the latest best practices and conducts regularly scheduled Continuous Improvement events in order to meet and improve the standards of customer satisfaction.
Our Customers benefit because they know that our Dealership is an Elite Support Certified location that will provide them with consistent, high-level quality service, every time.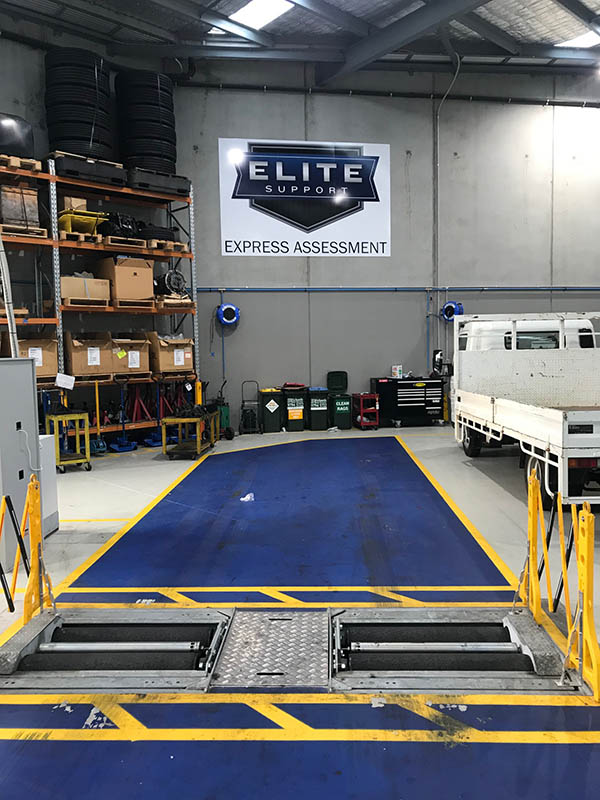 ---
Benefits
Express Assessment
All Elite Services Certified locations participate in Express Assessment which is a commitment to provide a preliminary diagnosis and communication to the customer within two hours of a truck arriving at the dealership. Express assessment is a process, not a program. It is intended to become part of the way our service department performs its day-to-day work. We commit to: communicate a preliminary diagnosis, check part availability and provide an estimate of cost and repair time.
Maximising Uptime
The ultimate goal of the Elite Services Network is maximising vehicle uptime. Every Elite Services dealership must be recertified annually to ensure you experience a consistent, higher standard with every visit across our network.
Best-Trained Techs
Our technicians receive continual training from the experts. We focus on a solid understanding of all vehicle systems and have access to the latest tools to expedite repairs.
Continuous Improvement
Every dealership earning the Elite Services certification must meet 137 specific criteria across 20 customer service areas. To maintain these high standards, dealerships employ a Continuous Improvement Coordinator.
Robust Parts Available
Through the combined experience of our network and close collaboration with our service team, we understand what parts we need on-hand to get you back on the road quickly. Focus Parts, our data-driven stocking program, ensures that the parts you need are never far away.
Exceptional Amenities
We know that when we service your vehicle, we're servicing your business. Elite Service Certified dealers believe in providing quality repairs and timely communication from a friendly and familiar team. Our facilities are designed to minimise downtime and provide a comfortable environment for drivers as we work to get your truck back on the road.